Hello there! I'm Marc, the marketing manager at Vates and I would like to share with you some progress regarding the new graphic identity we are building for our company, as well as provide a deeper explanation about why we are doing this big rework.
The legacy of Vates
Vates was born 10 years ago. During these 10 years, we have carried out numerous projects and built several products related to the world of server virtualization. We have been an Open Source software integrator, then a software publisher with Xen Orchestra, forked our own virtualization platform with XCP-ng of course, and also created some complementary products such as XO Proxy and more recently XOSTOR (our hyperconvergence solution in collaboration with LINBIT). That's a LOT!

For a long time, our core focus was all the technical aspects of our solutions and their accessibility to our users and community. Our ambition, which has never changed, is to deliver open source, high-performance solutions in the most transparent way possible. While staying on course in terms of technical development during the last 8 years or so, we did not have enough resources to "keep up" from a graphic identity point of view, leaving our visuals a bit scattered while we added new products and solutions.
Xen Orchestra Lite & Xen Orchestra 6
In 2021, we started working on Xen Orchestra Lite, a lighter version of Xen Orchestra that you have already heard a lot about. Xen Orchestra Lite is also an opportunity for us to rework our user interface prior to the development of our next major release: Xen Orchestra 6, planned for 2023.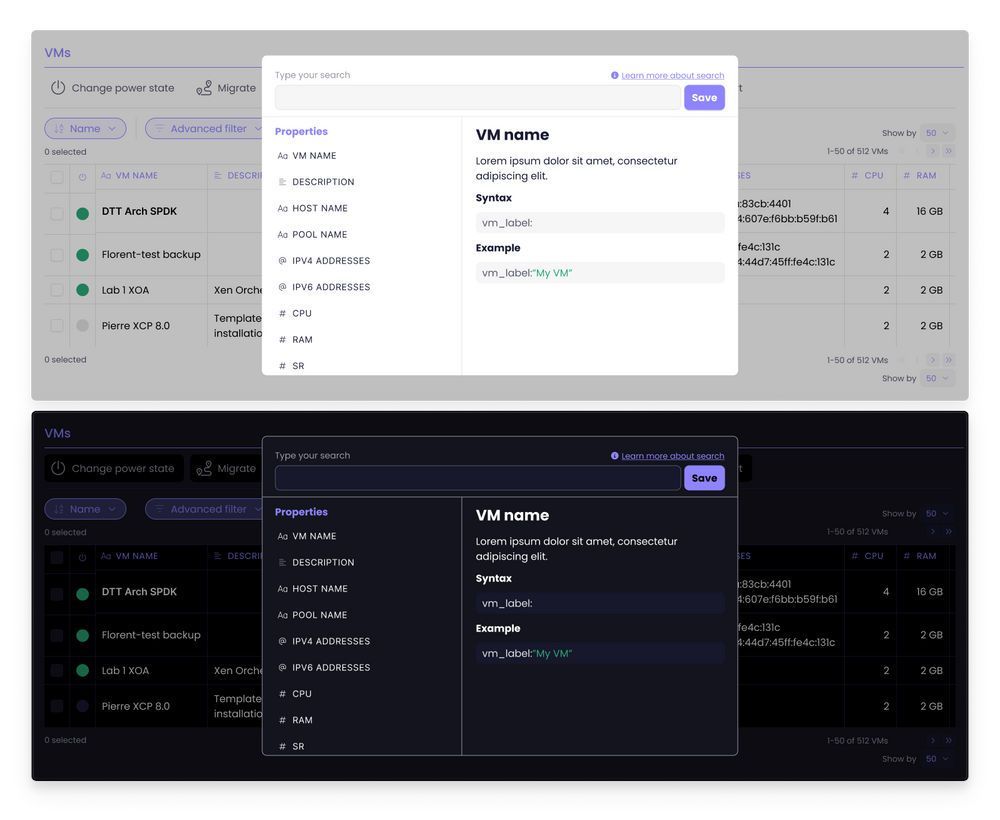 While working on these new interfaces, it became clear to us that we needed to rework our graphic identity, not only for our solutions, but also for our whole company.
The observation we made is very simple: it's not enough to have multiple solutions with a nice user interface. We need more "broad" accessibility, meaning that our new users can clearly understand the different tools in our stack, how they organize between each other, while having a coherent commercial offerings. Let's be honest, at Vates, we're not fan of solutions requiring a licensing expert to tell us what to buy to set up your infrastructure.
For all these reasons, we decided to entirely rethink our new identity to be coherent regardless of the tool/software you are using in our entire stack, creating a dedicated "universe": you'll know you use a Vates software or service just by looking at it!
Our new graphic Identity
That's where we are now!
We made the choice to work with some incredible people from outside our company to help us translate what makes Vates a unique open source virtualization startup into our new logos and branding. First, we worked with Clemence, a freelance UI/UX designer which helped us to define the new interface we want to use in XO Lite and XO6. Then, for the new logos and Vates Identity in general, we worked with Les Alfredines - a graphic studio which loves to create powerful visuals.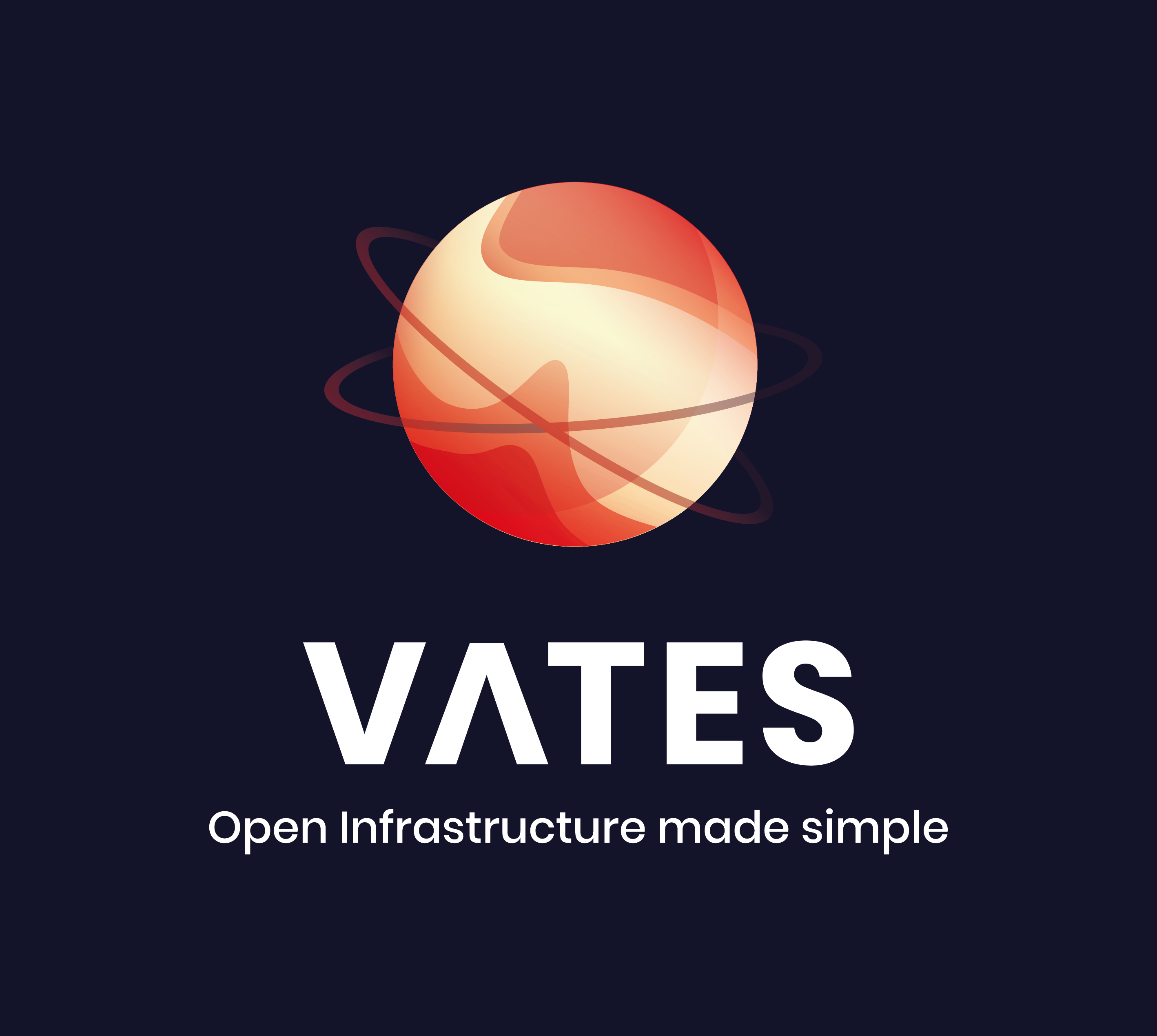 A word about our graphic universe
At Vates, we like to say that what we do is to provide rocket science technology for the end user, in other words, to "make it simple". It's precisely this idea that led us to compose our new graphic universe using the theme of space.  But we didn't want a boring and corporate universe: that's why we chose the kind of illustrations that are close to our company's spirit.
Here are all the new logos for XCP-ng, Xen Orchestra and even Xen Orchestra Lite: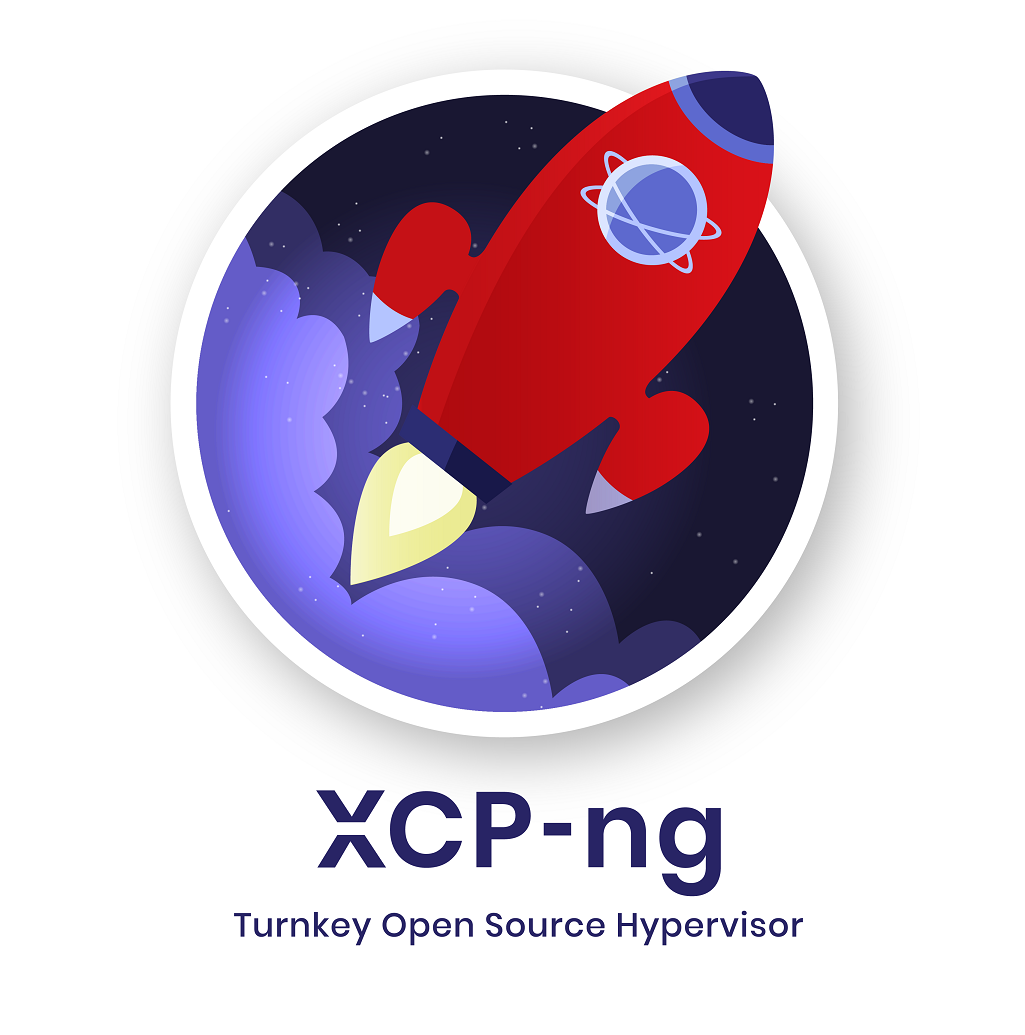 ☝️
We already used a rocket as our XCP-ng logo, and most of our community liked it, so for XCP-ng, it was more a facelift than a complete rework. The rocket is now crossing space, it is no longer 'just' taking off. We are cruising now!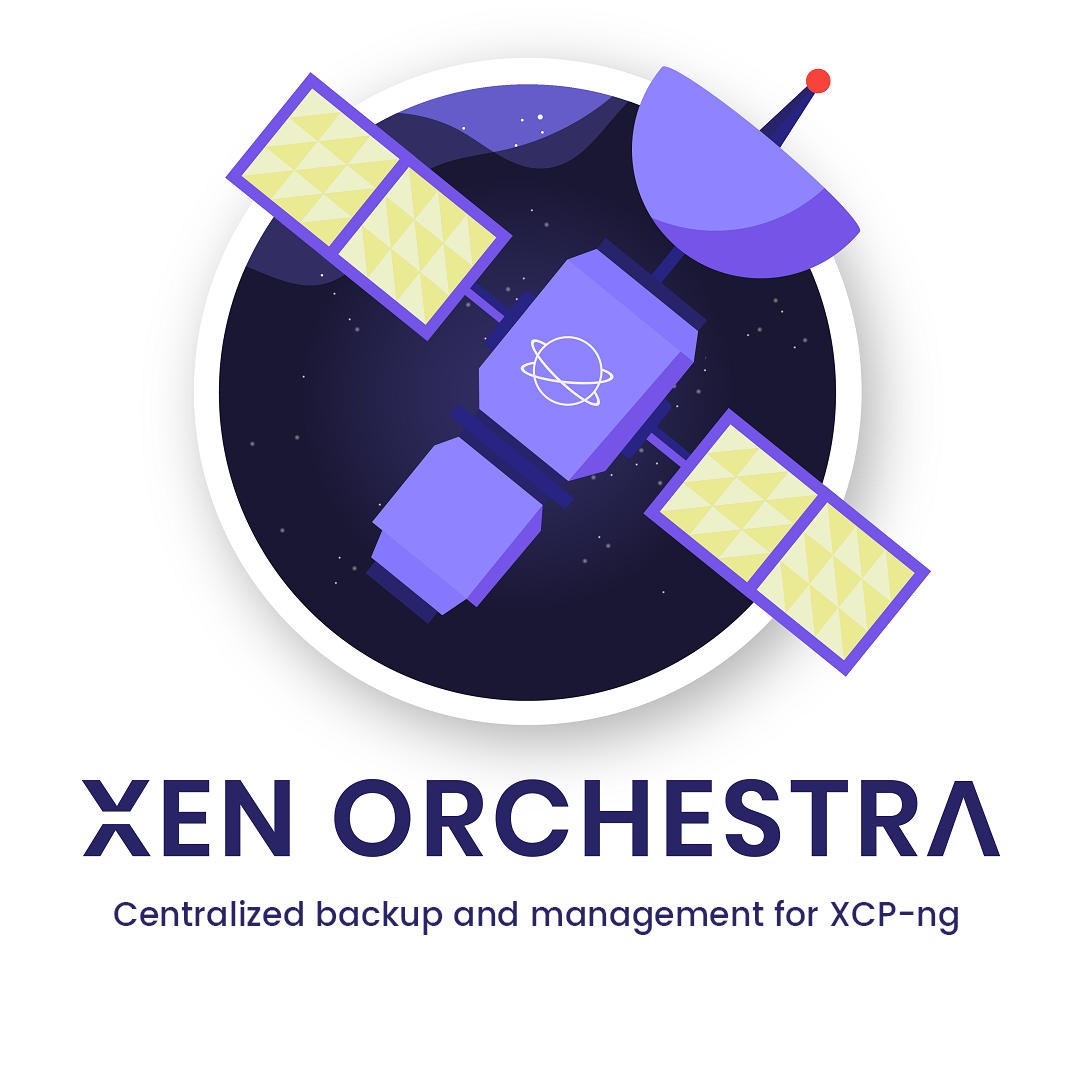 ☝️
Fun fact: for the Xen Orchestra logo, we originally wanted to create some kind of astronomical observatory - but the render was always a bit too close to the shape of a tank turret with a big cannon.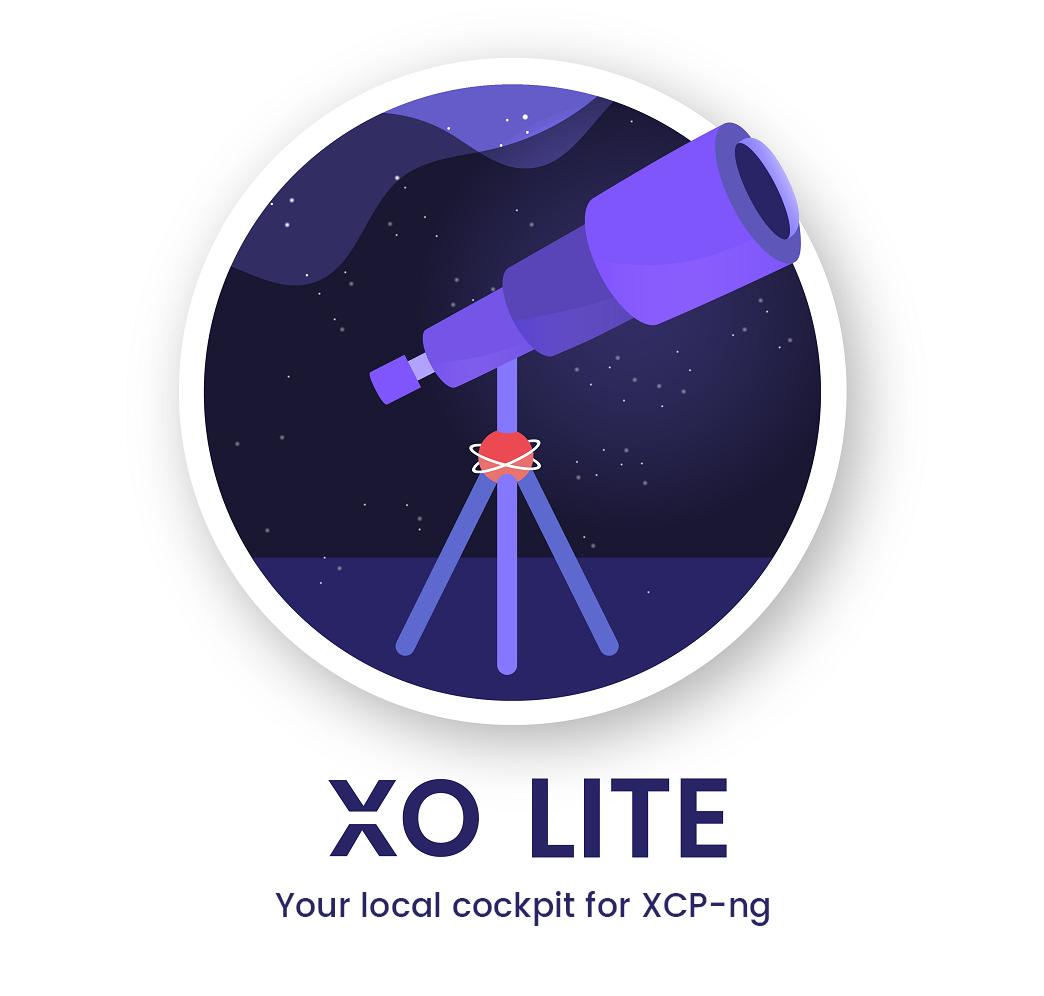 ☝️
As usual, we work as much as possible with Open Source tools, and this is the case here, since the Poppins font which constitutes our typography is 100% Open Source.
What's coming next?
The next big project we would like to deliver before the end of September is nothing less than a brand new website for Vates.
The aim of this new site will be to bring together all our solutions under one banner and to offer new and easier to understand subscription methods. In the same way that users subscribe to VMware without worrying about whether they should subscribe to ESXi and vCenter independently, we wanted to offer the possibility to subscribe to a complete stack and to benefit from unconditional support, no matter what the cause of the problem might be.
💡
Most of our new users and customers are now coming from VMware world. It was more than logical to shape our product line and identity so it was easier to understand for them.
Want a sneak peek?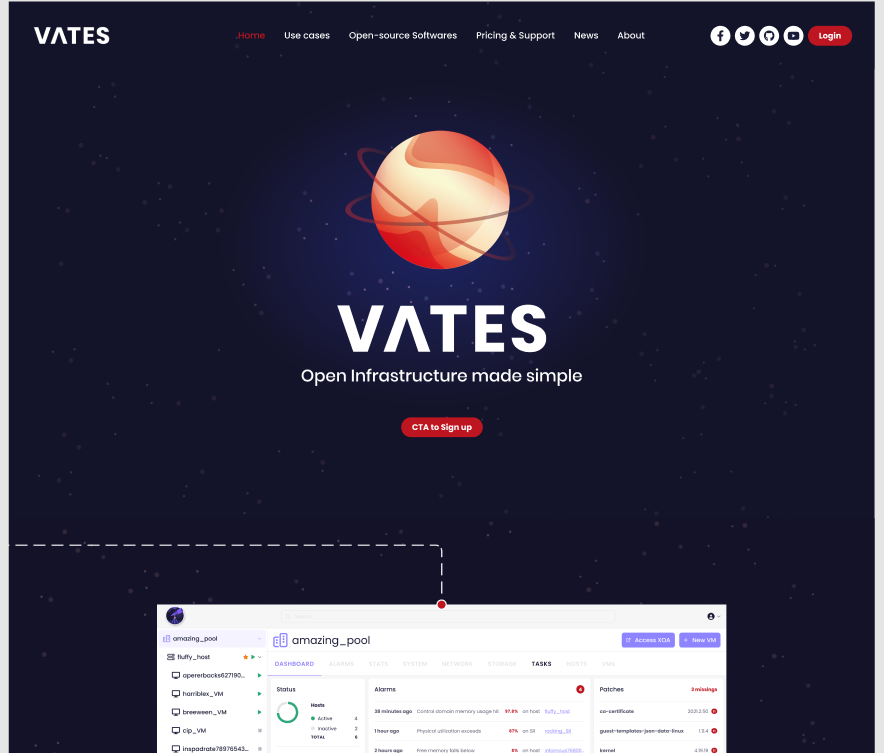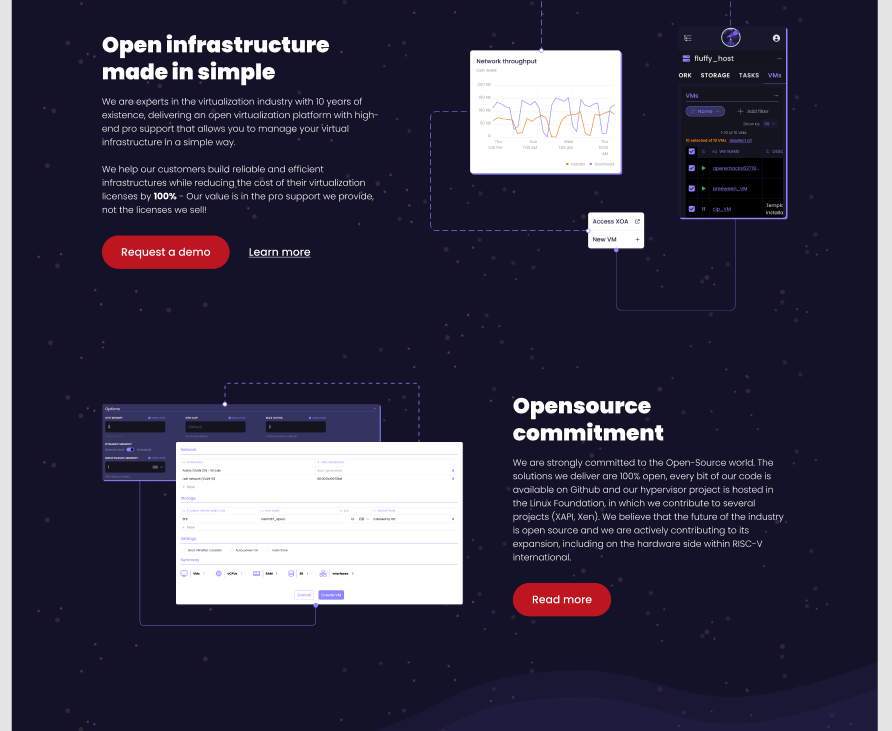 We hope that you like this new brand identity. We made our choice to reflect our values: advanced technologies but fun to use, while staying 100% open.